My restaurants Top 30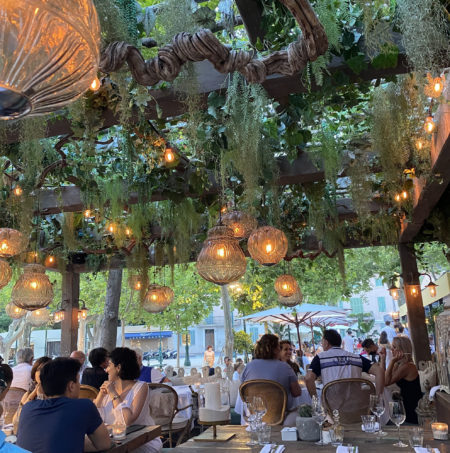 MY BOOK OF SECRET GOOD RESTAURANTS
As the director of Gault Millau for nearly ten years, I enjoy to open my address book of favourite restaurants within half an hour of the Domaine des Peyre. We are lucky in Luberon to have very good products and very good restaurants with good quality/price/pleasure ratios, you just need to have the right codes… here are some of them. Do not hesitate to give me your opinion.
LES BEAUMETTES
DOMITIA- MAISON DE CUISINIER
Bistro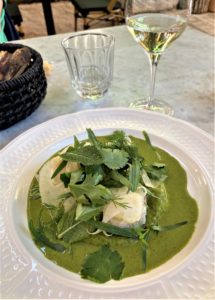 440 Les Beaumettes,
84220 Beaumettes
What luck that chef Jérôme Faure has come to live so close to the Peyre estate! You will love his gourmet cuisine, his precise dishes, his perfect cooking in his "cooking house" where the products of his neighbouring producers never cease to inspire him! In the summer, you will not see the time pass on the terrace and in the winter, you will love the cocoon dining room. Nice local wine list at reasonable prices. Reservations highly recommended!
Closed on Thursday
Rates: 30 € – 50 €.
04 90 72 23 05
BONNIEUX
LA BERGERIE
Bistro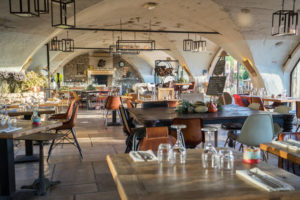 Chemin des Cabanes
84480 Bonnieux
Summer or winter, with or without children, with or without dogs, with or without friends, you will enjoy this beautiful, relaxed atmosphere with a breathtaking view of the Luberon. The bistro of the Bastide de Capelongue has made its mark: beef picanha, rack of pork from the Ventoux and dishes of the day make this sheepfold, with hunting trophies and sheep skins around the fireplace, a much sought-after place. Reservation recommended!
Prices: 35 € – 60 €.
04 90 75 89 78
LA BASTIDE DE CAPELONGUE
gastronomic place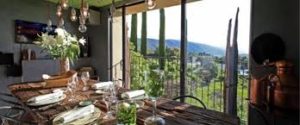 Chemin St-Blaise
Les Imberts
84220 Gordes
A magical place, a warm welcome, a generous and gourmet cuisine… Alexis Osmont and his wife have turned this place into a restaurant where, in summer and winter, in the magnificent garden or around the fireplace, you can enjoy the latest creations of this chef who handles bistronomy like no one else in the region. You are bound to enjoy yourself! Wine list of his favourites.
Prices: 30 € – 70 €.
Closed Tuesday, Wednesday and Thursday for lunch
04 90 04 03 57
LA CITADELLE
Table chic
Rue de la Combe
84220 Gordes
Restaurant in La Bastide de Gordes. Provencal cuisine of the highest standard. Ideal for enjoying the magnificent view of the Luberon. Terrace and vaulted room.
From 01/04 to 31/10.
Rates: 70 € – 130 €.
04 90 72 12 12
LES BORIES
Table chic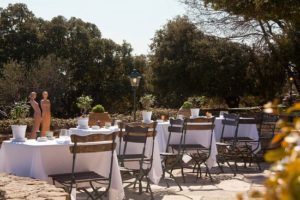 Route de l'Abbaye de Sénanque
84220 Gordes
Very nice dishes made with high quality products. Careful service in a very Provence chic setting.
Rates : 90 € – 120 €
04 90 72 00 51
CLOVER
Table chic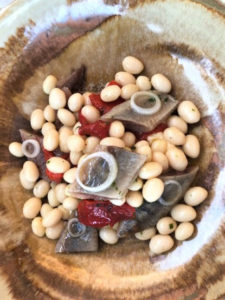 Bastide de Gordes
Route de la Combe
84220 Gordes
Now entrusted to the chef Jean François Piège, this table with a magnificent view of the Luberon, plays the card of Provençal simplicity that would have been a little sophisticated to better justify the high prices. One could regret that the menu of local products is not even better played, all the more regrettable as Jean François Piège's roots are in the neighbouring Drôme. Closed on Monday and Tuesday.
Rates : 160€ – 250 €
04 90 72 12 12
GOULT
CAFÉ DE LA PLACE
Bistro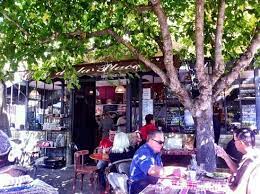 Rue de la République
84 220 Goult
Very well located on the village square of Goult where time seems to have stopped… The perfect place to relax, in all simplicity, on a magnificent square in Provence! Nice welcome, nice and efficient service and well prepared dishes on the themes of Provencal cuisine. Don't miss the aioli! Reservation recommended for a table on the terrace!
Rates : 30 € – 40 €
04 90 72 23 09
DOPPIO
Pizzeria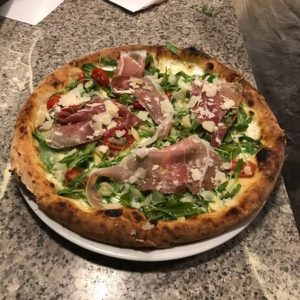 D900, Quartier Pied Rousset
84 220 Goult
On the terrace in the summer, you can enjoy beautiful Neapolitan pizzas, crispy, well garnished, but also beautiful salads or pasta dishes. Perfect with children!
Rates : 20 € – 35 €
04 90 72 44 57
JOUCAS
LE PHEBUS
Très grande table

Rte de Murs
84220 Joucas
Xavier Mathieu's restaurant is now one of the finest in the region. With mastery, passion and audacity, he enjoys reinterpreting the great classics of Provençal cuisine and the result is particularly seductive. A gourmet and brilliant cuisine, a warm welcome, a faultless service and an elegant setting with a breathtaking view make this restaurant a must in the Luberon.
Rates : 90 € – 150 €
04 90 05 78 83
LES TAILLADES
AUBERGE DES CARRIÈRES
Table gourmande

36 Avenue du Château
84300 Les taillades
Both for Niels' creative and gourmet dishes, and for Virginie's warm welcome, one cannot but adore this table run by this young Belgian couple. In summer, under the arbour, facing the garden, or in winter in the pretty dining room, you can enjoy these marriages of flavours that make your taste buds vibrate. Reservations are recommended in all seasons! The lunch menu is certainly the best value for money in the region!
Closed on Sunday and Monday (Sunday in season)
rates : 35 € – 60 €
04 32 50 19 97
L'ATELIER… L'ART DES METS
Table gourmande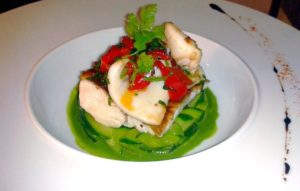 500 Route de Robion
84300 Taillades
A chef with a passion for wild flowers and plants who knows how to combine them with local produce in well prepared dishes. His wife in the dining room is very attentive.
Rates : 35 € – 60 €
04 90 72 37 55
L'ISLE SUR LA SORGUE
L'ATELIER DU JARDIN
Bistro

38 av de l'Egalité
84800 L'Isle-sur-la-Sorgue
A simple menu, with gourmet dishes to be enjoyed at lunch under the arbour in the middle of the garden or around the large table d'hôte inside. The ideal break for bargain hunters in the antique village.
Rates: 25 € – 35 €
04 90 20 14 98
LE CAFÉ DU VILLAGE
Bistro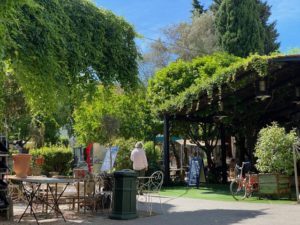 2 bis avenue de l'égalité
84800 L'Isle-sur-la-Sorgue
In the heart of the Village of Antique Dealers at the station, a good place to have lunch at the weekend under the arbour. Fresh products, friendly welcome, menu for all tastes and budgets. Reservations are required if you want a seat… a busy place from midday onwards!
Lunch service only
Closed Tuesday – Wednesday – Thursday
Tarifs : 25 € – 35 €
04 90 15 47 49
LE LONGCHAMP
Brasserie
14 Esplanade Robert Vasse,
84800 L'Isle-sur-la-Sorgue
The brasserie that moves, nice atmosphere, broadcasting of sports events, home cooking, daily specials, brasserie menu.
Rates : 20 € – 35 €
04 86 65 64 87
BEEF PUB
Pub
Le moulin, pte de Bouigas
84800 L'Isle-sur-la-Sorgue
On the banks of the Sorgue, in the heart of the village, the ideal place to satisfy the "meat-eaters" but also to discover beers from all over the world and to go through the vineyards to find some nice pins.
Rates : 25 € – 100 €
04 13 39 85 64
RENAUD' METS
Bistro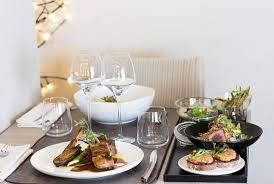 52 rue Carnot
84800 L'Isle-sur-la-Sorgue
A very small restaurant in the heart of the village, a short menu, seasonal, local products, deliciously prepared. A lovely service, a table without fail to discover during your stay in Isle sur la Sorgue.
Rates : 20 – 45 €
04 90 24 86 62
UNAMI
Bistro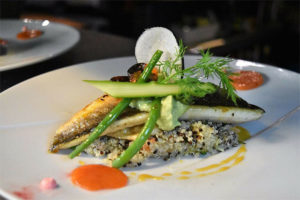 33 rue Carnot
84800 L'Isle-sur-la-Sorgue
A very small room with a drab decor but with plates full of good ideas and good flavours at very reasonable prices.
Rates : 30 – 45 €
04 90 20 82 12
ITALIAN CAFFE
Pizzeria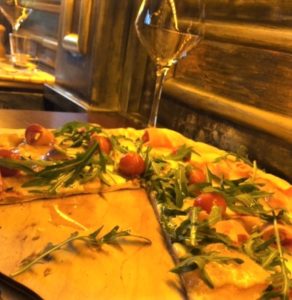 12 Espl. Robert Vasse
84800 L'Isle-sur-la-Sorgue
For lunch or dinner, on the terrace in the heart of the Isle, beautiful pizzas or pasta and risotto proposals. Friendly welcome, to be recommended with children.
Rates : 25 € – 40 €
04 84 14 24 73
LE JARDIN DU QUAI
Table gourmande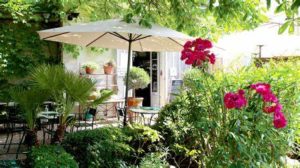 91 av Julien Guigue
84800 L'Isle-sur-la-Sorgue
For lunch or dinner in fine weather, it's just a delight to sit in this extraordinary garden, among groves, rose bushes, arbours, antiques and works of art. The unique menu is always gourmet, imagined by Daniel and Jeremy according to the products of the market. Cool atmosphere but professional service.
Prices: 45€ – 70 €.
04 90 20 14 98
LE PETIT HENRI
Table gourmande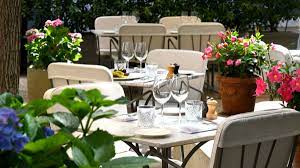 1 Cours René Char
84800 L'Isle-sur-la-Sorgue
In a chic setting, a friendly welcome for a plate always well inspired by the products of the region. Open all year round.
Prices: 40 € – 60 €.
LE CARRE D'HERBES
Table gourmande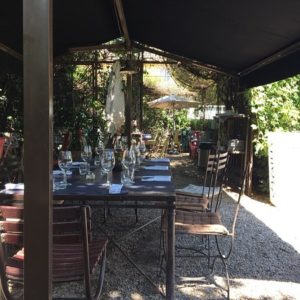 13 Avenue des Quatre Otages
84800 L'Isle-sur-la-Sorgue
In the heart of a village of antique dealers, in an old-fashioned bistro setting or on the terrace, a lovely gourmet stopover where the chef knows how to choose seasonal products from the region to enhance their range of flavours with greed and imagination. Friendly and efficient service.
04 90 38 23 97
Rates : 30 € – 50 €
LE VIVIER
Table chic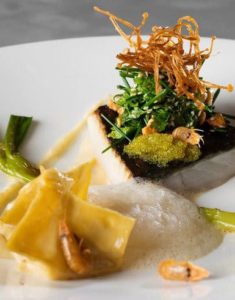 800 Cours Fernande Peyre
84800 L'Isle-sur-la-Sorgue
Far from the hustle and bustle of the village, a terrace on the banks of the Sorgue where the chef gives pride of place to fish, which he cooks with an inspiration marked by a real modernity.
Prices: 60 € – 100 €.
04 90 38 52 80
04 90 38 52 80
MAUBEC
MAMA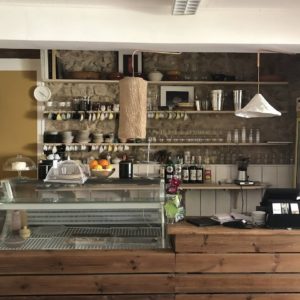 2 Trav. de l'épicerie
84660 Maubec
Opposite the town hall of Maubec (minutes from the Peyre estate), a stopover full of simplicity, authenticity and delicacy. Here, everything is made on the spot, every day, a mother/daughter duo welcomes you with sweetly priced formulas and delicious flavours. Takeaway also available. The small terrace reflects the cuisine at lunch and dinner. Special mention for vegetarians: a daily menu to convince you to stop eating meat!
Prices: 16€ – 30 €.
04 90 76 23 59
MENERBES
BISTROT LE 5
Bistro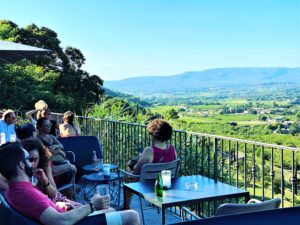 5 Place Albert Roure
84560 Ménerbes
Certainly the most beautiful view of the Luberon! There is nothing more delicious than watching the sun set from here, with a glass of local wine in hand, sitting around a table in front of a beautiful plate made from local products. In the evening, with a DJ, it is undoubtedly "the place to be", the table of the holidays!
Rates : 35 € – 50 €
04 90 72 31 84
OPPEDE LE VIEUX
LE PETIT CAFE
Bistro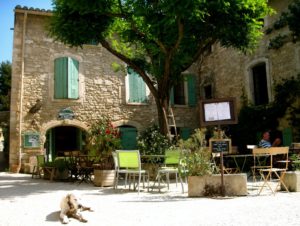 12 Rue Sainte Cécile
84580 Oppède
In the heart of the old village of Oppède-le-vieux, a shaded terrace as one dreams of finding in Luberon. Just want to settle down for a drink or to discover the flavours of the season.
Closed Tuesday evening and Wednesday
Prices: 20 € – 40 €.
04 90 76 74 01
PERNES LES FONTAINES
CAFE DE LA PLACE
Bistro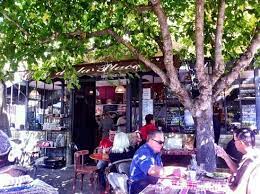 91 Pl. Aristide Briand,
84210 Pernes-les-Fontaines
A family meal, a meal with friends, a break for two, a drink in the afternoon: this is the right place for you! Magnificent terrace on the square, in the shade of the plane trees, beautiful atmosphere, around a simple and well-made menu, nice and efficient service. A good time is guaranteed at very affordable prices.
Rates : 30 € – 40 €
04 90 61 32 80
ROBION
LOU LUBERON
Bistro du village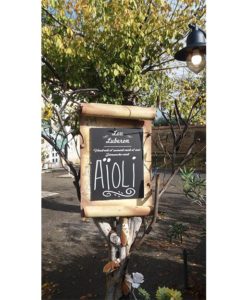 189 Avenue Aristide Briand
84440 Robion
The real locals meet here every day for their game of cards and to remake the world… The Pagnol version of Luberon. Aïoli, pieds paquets, pizzas, ice creams…
Closed on Wednesday
Rates : 15 € – 30 €
04 90 76 65 04
L'AUBERGE PAYSANNE
Comme à la maison
936, chemin du Moulin d'Oise
84440 Robion
A house in the countryside, Provençal cuisine like at home, generous and seasonal.
Closed Monday, Tuesday, Wednesday and Thursday.
Prices: 20 € – 38 € (Aperitif, wine & coffee included)
04 90 76 81 96
SAINT PANTALEON
BISTRO DES ROQUES
Bistro de village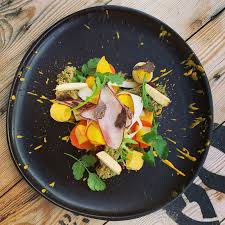 Rue des Roques
84220 Saint Pantaléon
The village bistro as one would dream of it: much more than a restaurant, the one in Les Roques is also a grocery shop, a bread depot and many other things to help the inhabitants. A lovely shaded terrace in the heart of the village, a paradise for enjoying the beautiful dishes that Philippe and Agathe prepare with mainly local products.
Closed Monday, Sunday afternoon
06 40 89 34 32
Rates: 20 € -Tarifs : 20 € -5 €